Start a Wordpress blog in 3 minutes or less.
Have you ever wanted to set up a website or blog, but thought it would be too expensive and/or complicated?
It doesn't have to be.
In this article, I'm going to show you just how easy, fast and inexpensive it is to setup a Wordpress blog.
Here's what you'll learn:
Which blogging platform is right for you.
How to install Wordpress on Bluehost.
How to setup your domain name for your blog.
Affiliate Disclaimer: In this article, I use Bluehost affiliate links. This means that if you choose to use Bluehost as your hosting solution, I will earn a small commission. Please note, this will come at no extra cost to you and I'm only recommending Bluehost because I actually use and love it.
Free or Paid hosting?
Starting a blog doesn't need to be a costly process, in fact, you can start blogging right now for free.
The question is: is a free blogging solution really for you?
If you're just looking for a space to share your thoughts and have a little fun, then a free option might absolutely be the perfect solution for you. You only need to look at awesome sites like Typepad, Blogger, Tumblr and Wordpress.com and you will find they offer a decent free blogging service.
But if you have an eye for starting an online business and making money, you will certainly need to use paid hosting for your blog.
Why? Because the paid version gives you far more control of your site, it's easier to change the way your blog looks and, frankly, it makes your business look a lot more professional.
With the self-hosting option you will pay a web hosting company for space to install your blog (the actual blog installation is free) and you will get all the control you will ever need. Also, it will cost you less than a cup of coffee every month.
With this self-hosting option, the only real choice for blogging is Wordpress because it's super easy to install, use and customize.
So I guess the next question is, what is the best hosting solution?
What web hosting service should I use?
For me, the list starts and ends with Bluehost.
Bluehost is a hosting company that, in my humble opinion, delivers a quality product for a very affordable price.
I use it and I have done for years.
In the past I used a different hosting company and had a rather unpleasant experience (I'll tell you about it sometime), but I've had no issues with Bluehost and I don't think I ever will.
Why Create a Wordpress Blog on Bluehost?
There a couple of others reasons why creating a Wordpress blog on Bluehost is a pretty good idea when starting an online venture.
Wordpress is FREE.
The Wordpress platform makes it REALLY easy to update the design and content of your website.
Bluehost has a pretty cool and easy-to-use control panel, with which you can install Wordpress in the blink of an eye.
Bluehost's Wordpress installation is REALLY easy to do.
Bluehost offers a great product at a great price.
Bluehost offers excellent 24/7 support.
Let me to run you through precisely how to set up a new Wordpress blog on Bluehost.
Step 1: Sign up to a Bluehost hosting package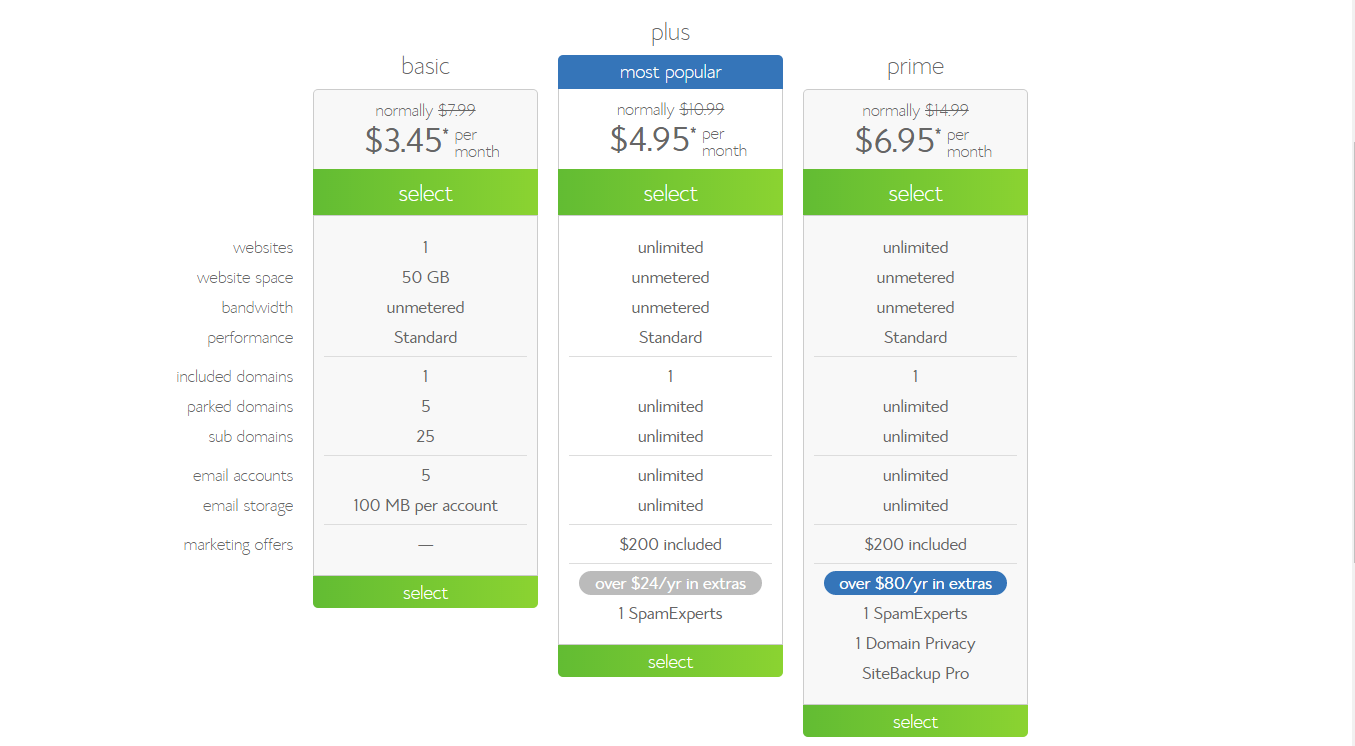 As you can see from the image above, Bluehost offer 3 different hosting packages.
I suspect that you'll only need the basic package to start with, but if you do want to host multiple websites and have unlimited website space you might want to consider the plus option for just $1 more a month.
However, if you do start with the basic package and want to upgrade later, then you can absolutely do that.
Step 2: Domain name
Next up, you'll need to tell Bluehost about your domain name.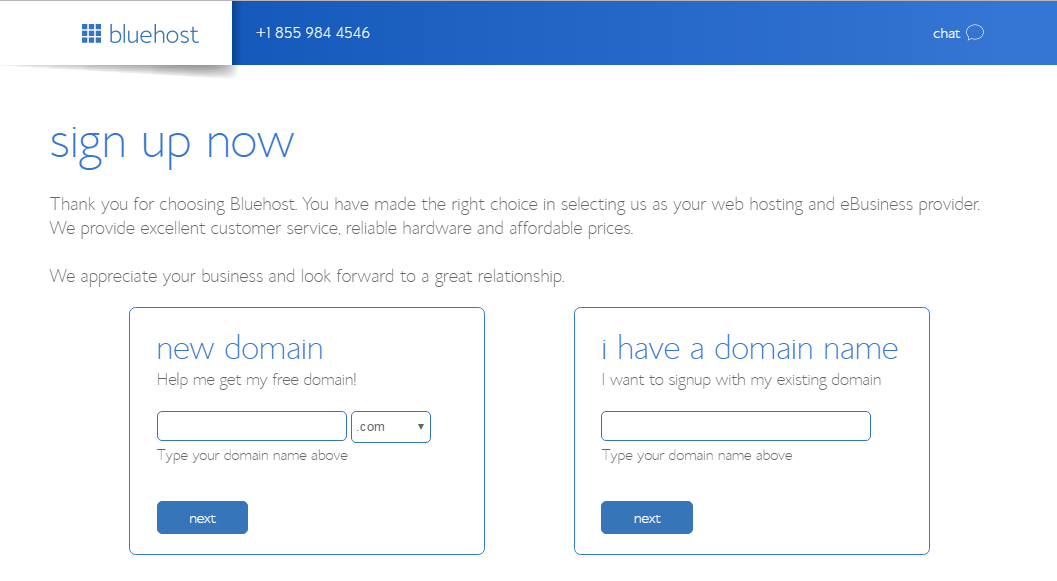 As you can see from above, if you don't have one already then you can register one with Bluehost.
However, I usually use Godaddy for my domain names.
I use them for 3 reasons.
I already have domain's registered with Godaddy and I want to keep them all in the same place.
Their prices are usually cheaper than anywhere else you find.
They have excellent customer service.
Step 2.1: Connect your domain name to your hosting
If you are purchasing or getting a free domain name from Bluehost, you can skip this bit. This section is only for those of you who have a domain registered elsewhere.
In my example here, I'll use GoDaddy as an example but this WILL apply to any domain registry site.
Firstly, locate the domain name you want to point at your Bluehost account.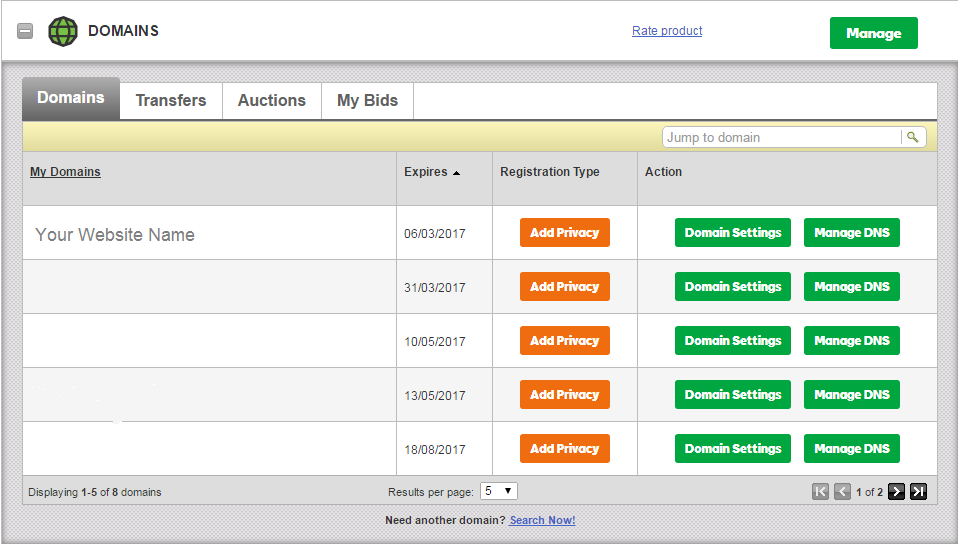 Secondly, for that domain name click on the green "manage DNS" button. Then, find the "Namesevers" section of your page.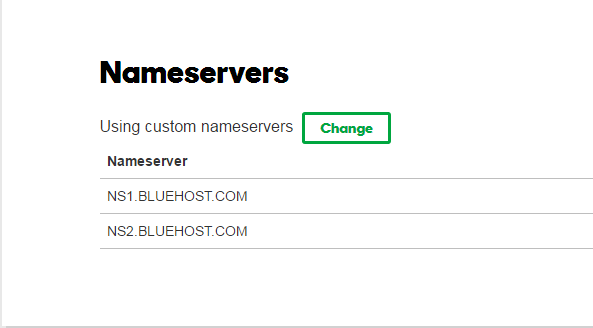 Click the change button. Then, select "custom" in the drop down and enter the following values; NS1.BLUEHOST.COM and NS2.BLUEHOST.COM.
Your screen should look something like this: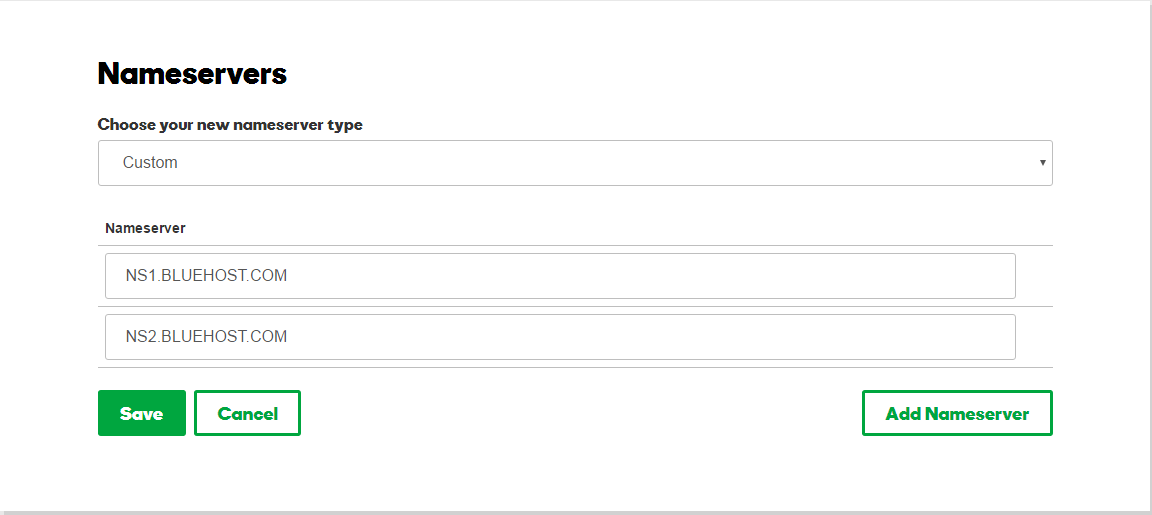 Click the "save" button and you're done.
After this has been completed, when you type in your domain name, you should see the website you have hosted in your Bluehost account.
But if you don't see it straight away, don't worry. It's never an instant process and they warn that it could take up to 24 hours before the changes are implemented. That said, I've never waited more than an hour.
Step 3: Find the "Install Wordpress" option in the Control Panel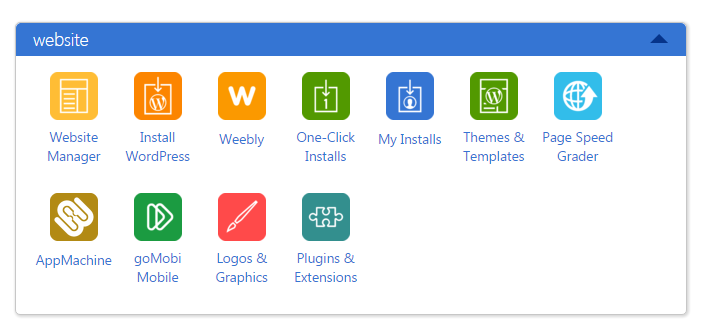 Once signed up, you will be directed to the Bluehost control panel AKA cpanel.
Here, you will find a section called "website" and you'll find "Install Wordpress" as the second option (see image above).
Click the "Install Wordpress" option.
Step 4: Installing Wordpress
After clicking the install button, you'll be directed to the start screen: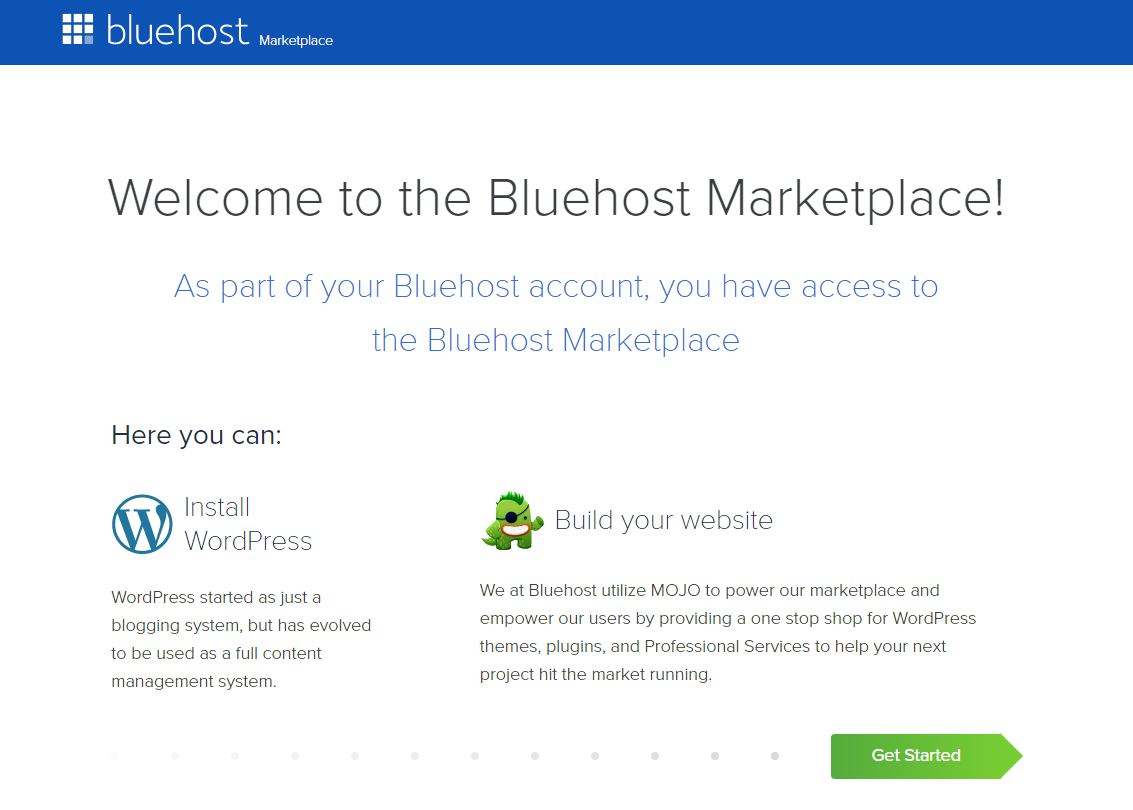 Click "Get Started".
Then you'll get this screen: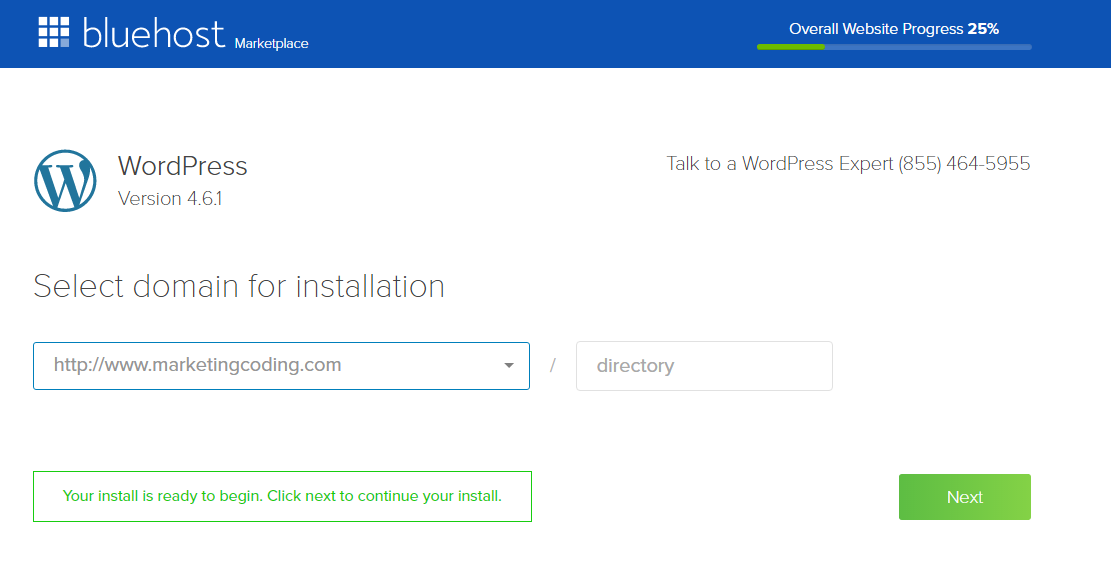 As you can see, I have selected a domain name from the dropdown. You will obviously find something different; you will find the domain you either registered at Bluehost or told Bluehost about back in step 2.
Here, you are basically telling Bluehost where to install your Wordpress Blog. If you've followed all of the instructions above and don't have a domain showing yet, contact Bluehost support (they're totally awesome).
Next, it's time to give the installer information about your website.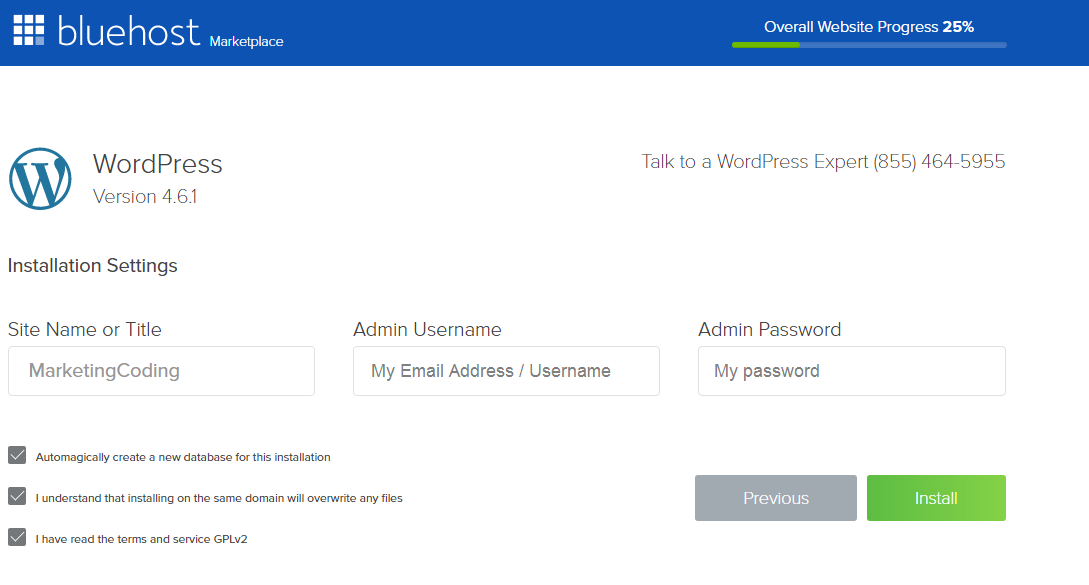 As you can see, the installation requires the following:
The name of your site.
Your username.
Your password.
Then it's just a matter of ticking the standard authorisation options.
The first is to confirm you want this install to create a new database for your account. Wordpress needs a database in order to work, so this is pretty much essential.
The second is to confirm that any files within the directory you're installing Wordpress will be overwritten. If you're creating a website from scratch, this is nothing to worry about. If you're replacing an existing website with a Wordpress one, then make sure to make backups of anything you may want to keep.
The third is just a standard terms of service.
Once you're happy with everything, click the Install button.
After a couple of seconds, your Wordpress installation should be complete.

You should also receive an email confirming your installation has been successful.
The email will also contain a link to your Wordpress admin panel. Here, you can login to your site and begin playing around.
Ready to get started?
Head over to Bluehost now to get started!
Problems? Questions?
If you've experienced any problems or have any questions regarding the above, catch us on Facebook or Twitter. We'd be happy to help.